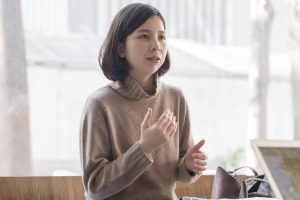 川人 綾 / Aya Kawato
Aya Kawato was born in Nara in 1988. Along with her family she later moved to Kyoto, where she grew up. Influenced by her father, who is a neuroscientist, she was exposed to the truth that we see this world through our brain. After studying traditional Japanese textile in Kyoto, she moved to Tokyo to study at Tokyo University of the Arts, wherein she participated in an exchange program at École Nationale Supérieure des Beaux-arts in Paris; she further went on to complete the master's program in Intermedia Art in 2014. She is currently a doctoral candidate at the same university. In line with the research theme of "Controlled and Uncontrolled," she has been focusing to create abstract grid paintings. In these paintings, she combines the knowledge and expertise that she has gained through her background in Japanese traditional textile with the findings of the latest neuroscientific studies. She has been awarded with many art prizes, including that of the Grand Prix at Rêver 2074, the art competition co-hosted by COMITÉ COLBERT and Tokyo University of the Arts in 2017, and the Tomio Koyama Prize at 11th Tagboat Award in 2016.
Education
2015~Tokyo University of the Arts, Graduate school of Fine Arts, Department of Intermedia Art, Doctoral Candidate Course
2015   Tokyo University of the Arts, Graduate School of Fine Arts, Department of Intermedia Art, M.A.
2014   École Nationale Supérieure des Beaux-arts, Student Exchange Programe, Paris
2011   Kyoto Seika University, Faculty of Art, Textile Course, B.A.
Solo Exhibition
2017
AYA KAWATO – C/U_CCLXXX-CXC_(w)_I – | Shonandai MY Gallery / Tokyo
Selected Group Exhibitions
2017
Collect 2 | Micheko Galerie / Munich
Rêver 2074 | The University Art Museum, Tokyo University of the Arts / Tokyo
small works -selected by Masaharu Makuuchi/ex-chamber museum | Art Space Morgenrot / Tokyo
The 13th Gunma Biennale for Young Artists 2017 | The Museum of Modern Art, Gunma / Gunma
2016
Shonandai Project WILL | Shonandai MY Gallery / Tokyo
The 33th Mitsubishi Corporation Art Gate Program | Eye of Gyre / Tokyo Atlas 2016 | Tokyo University of the Arts, Toride Campus / Ibaraki Independent 2016, Tagboat Art Fes | Hulic Hall / Tokyo
The 11th Tagboat Award | IID Gallery, Institute of Design / Tokyo
The 30th Mitsubishi Corporation Art Gate Program | Eye of Gyre / Tokyo
2015
The 10th Geidai Art Plaza Awards 2015 Exhibition | Geidai Art Plaza, Tokyo University of the Arts / Tokyo
Tokyo Design Week 2015, 100 Creators Exhibition | In front of the Meijijingu Gaien Memorial Picture Gallery / Tokyo
Sicf 16 | Spiral Hall / Tokyo
Tokyo University of the Arts Graduation Works Exhibitions | Tokyo University of the Arts / Tokyo
2014
Wip | Tokyo University of the Arts, Toride Campus / Ibaraki
You've gone too far | Atelier Vilmouth, École nationale supérieure des beaux-arts de Paris / Paris
2012
Preliminary Review Exhibition | Tokyo University of the Arts, Toride Campus / Ibaraki
The 16th Flag-art Exhibition 2012 in Gifu | Kanda-machi street / Gifu
2011
Atlas 2011 | Tokyo University of the Arts, Toride Campus / Ibaraki
Kyoto Seika University Graduation Works Exhibition 2011 | Kyoto Municipal Museum of Art / Kyoto
Ensemble of Yuko Hasegawa + 16 Students | Kyoto Seika University Gallery Fleur / Kyoto
2010
Wakuwaku Kyoto Project | Former Rissei Elementary School / Kyoto
9 | Shin-bi / Kyoto
2008
1968+40 Mode Make-up | Kenninji / Kyoto
Art Fairs
2018
Art Fair Tokyo 2018 | Tokyo International Forum / Tokyo
2017
KOGEI Art Fair Kanazawa 2017 | Kumu Kanazawa the Share Hotels / Kanazawa
FIAC | Grand Palais / Paris
Art on Paper | Pier 36 / New York
Awards
2017
Mitsubishi Corporation Art Gate Program Scholarship
Rêver 2074, Grand Prix
The 13th Gunma Biennale for Young Artists 2017, Finalist
2016
Japan Arts Foundation Scholarship
Independent 2016, Tagboat Art Fes, Shonandai MY Gallery Prize, Katsumi Yamato Gallery Prize
The 11th Tagboat Award, Tomio Koyama Prize
The 33th Mitsubishi Corporation Art Gate Program, Finalist
The 30th Mitsubishi Corporation Art Gate Program, Finalist
2015
The 10th Geidai Art Plaza Awards 2015 Exhibition, Finalist
2012
THE 16th Flag-art Exhibition 2012 in Gifu, Finalist
Collection
2017
CHANEL K.K. / Tokyo